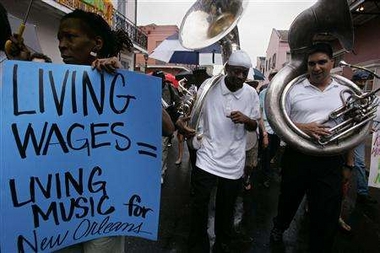 Backs to the wall following the economic devastation after the federal levee failures, New Orleans musicians are starting to organize.
This past Sunday, hundreds marched in a silent Second Line to draw attention to their plight. Always poorly paid, the post-levee failure world offers even slimmer pickings.
For a city that depends on music for its very survival (music is the key to tourism which is an important part of the city's base), the city's leaders give no thought to the source of the city's music and the needs of the people who produce it.
Excessive Second Line policing fees, cutbacks in school music programs, bans on live music in many neighborhoods including the French Quarter, and other factors are making an already difficult situation even tougher.
Historically, New Orleans is the SOURCE of much of what we think of as American music. Not just ragtime, Dixieland and jazz, but R&B, funk, rock and roll, and even the Motown sound all have deep roots in the city's unique musical culture.
Culture comes from people and the people and musicians of New Orleans are hurting.
If you don't water the roots, don't be surprised if the tree dies. The loss of New Orleans music culture would be a great loss to the world – and the country.
Larry Blumenfeld has written a superb report on the situation musicians in New Orleans face today: "It ain't easy in the big easy."