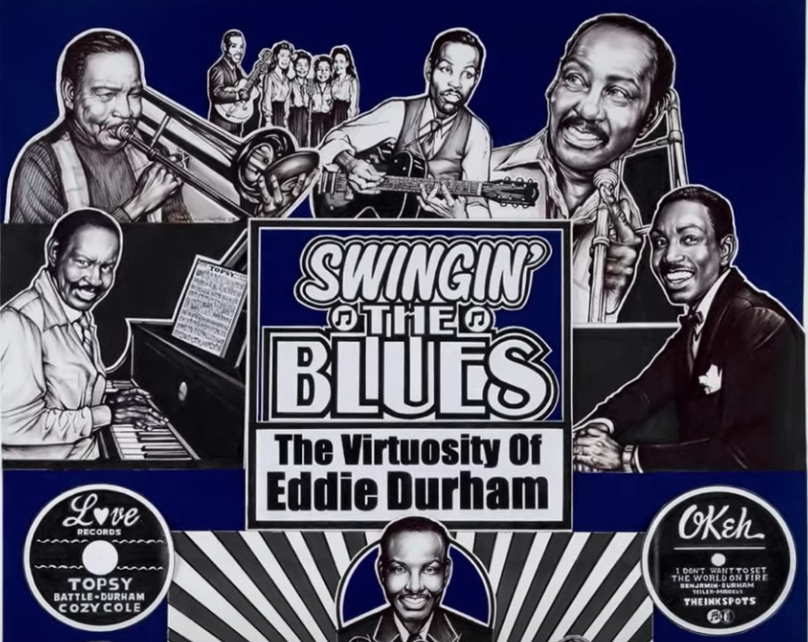 In commemoration of a truly influential musician, The 2022 Eddie Durham Festival resumes on Saturday, October 15th (all day), outdoors in the Eddie Durham Park & Pavilion, within his hometown of San Marcos, Texas.
The stellar lineup includes:
Pamela Hart
(Her performance of "How Glad I Am" is guaranteed to win you over: https://www.youtube.com/watch?v=aX5ITLrFgkY)
Jerry Espinoza
(Here is Jerry's group in a full concert Live at Monk's: https://www.youtube.com/watch?v=PDcnCC7_GYA)
JazzBonez
(Listen to the ensemble play Benny Golson's classic tune Stablemates: https://www.youtube.com/watch?v=jVKK9EpWui4), and Eddie Durham's daughter Topsy Durham will be emceeing!
The street will be blocked off, to accommodate many vendors, and for security reasons.
Support The Eddie Durham Festival (It's fast, easy, and tax deductible, too!)
The Calaboose African American History Museum (https://www.calaboosemuseum.org/about), which houses the only permanent Eddie Durham exhibit, requires help from music lovers and those who understand the importance of keeping Black American History alive, such as yourself.
Located just a few steps from Eddie Durham Park & Pavilion where the festival will take place, the museum will act as a cooling center from the outdoor heat as well as place for public educational segments to be held.
During the festival you can bring your Eddie Durham books to the Calaboose African American History Museum to get Topsy Durham's autograph, as well.
Your kind donation is being requested in support of these events.
Please donate whatever amount moves your heart, and consider an annual donation, as the Museum is a 501c3 non-profit org. No amount is too small or too large.
Click this link to donate now: https://www.paypal.com/donate?token=iGrvL9fUljJnimjANgjG7DsonNnUyLCPrinz0sdCWDyB-oInss_F5Skq0vSBjOlgpD7GSL9N9opV6I2E
Share this info far and wide, and mark October 15th, 2022 on your calendar.
For more info:
EddieDurhamJazz.com
SwingTheBlues@Yahoo.com
And here's Eddie himself, playing electric guitar with The Kansas City Five on "Love Me or Leave Me" (1938):
– Ken McCarthy
Jazz on the Tube
P.S. Our unique programming is made possible by help from people like you. Learn how you can contribute to our efforts here: Support Jazz on the Tube
Thanks.