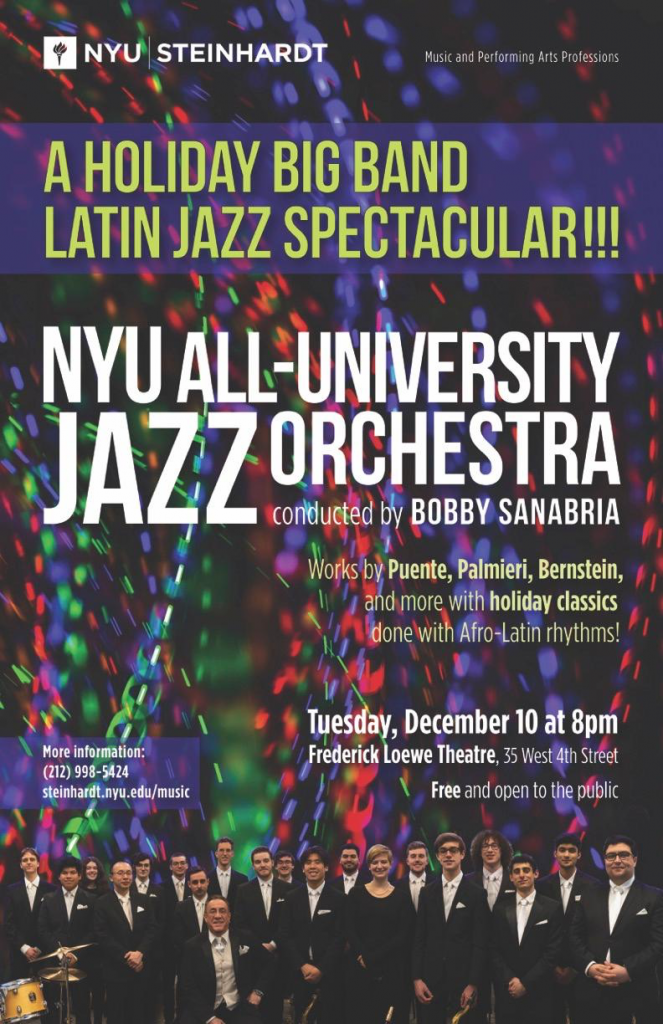 DECEMBER 4, 2019
FOR IMMEDIATE RELEASE:
NYU ALL UNIVERSITY JAZZ ORCHESTRA conducted by Bobby Sanabria
CELEBRATES THE HOLIDAY SEASON WITH A LATIN JAZZ SPECTACULAR!!!
WORKS BY LEONARD BERNSTEIN, TITO PUENTE, EDDIE PALMIERI, ARSENIO RODRIGUEZ, JOAO DONATO, AND MORE AS WELL AS HOLIDAY CLASSICS PERFOMED IN A LATIN JAZZ WAY!
Multi-Grammy nominated NYU faculty member Bobby Sanabria will be conducting the NYU All University Jazz orchestra in a special Latin Jazz concert in celebration of the holiday season on December 10, 2019 at NYU's Steinhart Hall.
"It's been an exciting, fruitful semester here in my new position at NYU as the students of the All University Jazz Orchestra represent the full gamut of the diverse educational opportunities NYU has to offer. Students from the various departments, Jazz, Music Ed, and more, are part of this talented group and the concert will prove to be not only entertaining for the audience but will also be a showcase for these talented young artists who represent the future of the music as well as NYU's commitment to cultural diversity." – Bobby Sanabria
Under Maestro Sanabria's baton the orchestra will be performing works by masters like LEONARD BERNSTEIN (One Hand, One Heart from West Side Story), TITO PUENTE (Elegua Changó, Mambo Diablo), EDDIE PALMIERI (Mi Congo), JOAO DONATO (Amazonas), ARSENIO RODRIGUEZ (La Vida Es Un Sueño) and more as well, as well as Christmas classic like Winter Wonderland, Carol of the Bells, and Jingle Bells all adapted to Afro-Latin rhythms!
The concert is FREE and open to the public and will occur on…
DECEMBER 10, 2019 at NYU at STEINHARDT HALL at 35 West 4th St. NYC AT 8PM
Fo further information or to contact Maestro Sanabria for press interviews you may contact…
DR. ELISE SOBOL at 212.998.5778 or es86@nyu.com or NOREEN GOLDBERG at 212.998.5539 or noreen.golberg@nyu.edu
BOBBY SANABRIA SHORT BIO
Bobby Sanabria is an eight time Grammy-nominee as a leader. Known as a drummer, percussionist, composer, arranger, conductor, documentary film producer, educator, activist, and bandleader, his versatility as both a drummer and percussionist, from small group to big band, has become legendary. A native son of the South Bronx born to Puerto Rican parents, he has performed and recorded with every major figure in the world of Latin jazz and salsa from Mario Bauzá, Tito Puente, Mongo Santamaría, Dizzy Gillespie, Chico O'Farrill, Ray Barretto, Cándido, to Larry Harlow, Ruben Blades, Celia Cruz, and jazz luminaries as diverse as Henry Threadgill, Charles McPherson, Randy Brecker, Joe Chambers, Jean Lucien, The Mills Brothers, and others. DRUM! Magazine named him Percussionist of the Year (2005); he was named Percussionist of the Year by the Jazz Journalists Association in 2011 and 2013. In 2006, he was inducted into the Bronx Walk of Fame. He was a recipient of the 2018 Jazz Education Network (JEN) LeJENS of Jazz Lifetime Achievement Award for his work as a musician and educator. In 2008 Congressman Dennis Kucinich honored his work as a musician and educator by reading his name into the Congressional Record and in 2018 the U.S. Congressional Black Caucus honored him as a musician, educator. Every single one of his big band recordings, seven in total, have been nominated for Grammys. His 2018 recording, 'West Side Story Reimagined,' reached #1 on the national Jazz Week radio charts, was nominated for a 2018 Grammy, and won the prestigious 2019 Record of The Year Award from the Jazz Journalists Association. Partial proceeds from sales of the recording go to the Jazz Foundation of America's Puerto Rico Relief Fund for musicians. He is the Co-Artistic Director of the Bronx Music Heritage Center and the forthcoming Bronx Music Hall. His lifetime dedication to spreading the history, culture, of jazz and Latin jazz to the general public as a performer, as well as educating a new generation of players, composers, arrangers, has no parallel. A member of Max Roach's legendary M'BOOM percussion ensemble, he is on the faculty of the New School and NYU. He is also the on air host of the Latin Jazz Cruise on WBGO FM.
NYU ALL UNIVERSITY JAZZ ORCHESTRA conducted by Bobby Sanabria – photo by Michael Abramyan
– Ken McCarthy
Jazz on the Tube
P.S. Our unique programming is made possible by help from people like you. Learn how you can contribute to our efforts here: Support Jazz on the Tube
Thanks.
Go to Cuba with Jazz on the Tube as your guide:


Click here for details