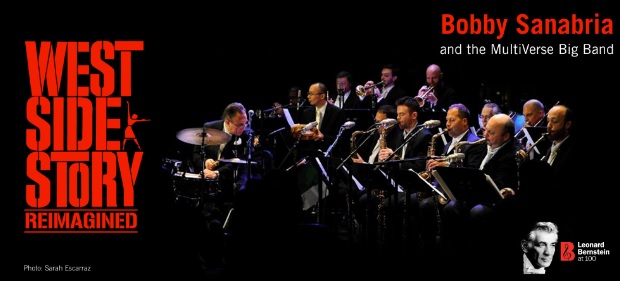 Composed by Leonard Bernstein for Broadway 60 years ago, West Side Story has proven to be one of the 20th century's most durable musical creations.
This March 17, 2018, Bobby Sanabria's Multiverse, made up of some of the finest musicians working in New York City today, will be performing a "reimagined" version of the work's timeless melodies using the rhythms of Puerto Rico, Brazil, Venezuela, the Dominican Repubic and other Latin American countries.
Sanabria explains. In the reimagined version…
"…Puerto Rican bomba xicá, yuba and plena are omnipresent. Dominican merengue, Venezuelan joropo, Brazilian bossa nova and samba, funk, New Orleans second line, Cuban bolero and son montuno are now included alongside the show's original use of Mexican huapango, Cuban mambo, cha-cha-cha, jazz, swing, European waltz and orchestral music.

It represents in full force the rainbow that is our collective Latino and African American culture in New York."
Details:
https://www.hostos.cuny.edu/culturearts/events/YEAR-2018/MAR/West-side-story/West-side-story.shtml
– Ken McCarthy
Jazz on the Tube
P.S. Our unique programming is made possible by help from people like you. Learn how you can contribute to our efforts here: Support Jazz on the Tube
Thanks.