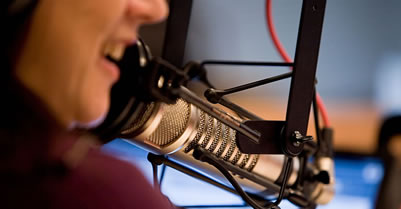 One way to learn more about Cuban and Afro-Latin music is to take advantage of some of the excellent radio shows on the subject.
Here's a short list of ones that you can stream via the Internet from anywhere on earth.
If you know of any other good programs that are streamable, please write us and we'll add them to the list.
WWPV.org  (Cuban)
Sundays Noon to 3 PM
'Cuban Bridge" with Toni Basanta
An erudite and enjoyable three hours from one of the world's most enthusiastic and informed experts on Cuba's music past, present, and to come
---
WBAI.org  (Pan Latin)
Tuesdays 10 AM to 12 PM
New York International with Al Angeloro
Saturdays 3 PM to 6 PM
New World Gallery with "Chico" Alvarez
Sundays 3 PM to 6 PM
Con Sabor Latino with Nando Albericci + Marysol Cerdeira
Note: Many of these programs are also archived
---
WKCR.org  (Pan Latin)
Mondays 10 PM to 12 AM
Caribe Latino
Tuesdays 12 AM to 1 AM
Latin Jazz Hour
Wednesdays 10 PM to 11 PM
Nueva Cancion y Demas
Wednesdays 11 PM to 1 AM
Som do Brasil
---
KRTU (Pan Latin)
Every Sunday from 11:00 am to 2:00 pm (Central Time)
The Latin Jazz Brunch with Henry Brun Airs from: San Antonio, Texas and also streams live online and is archived. The program has been on the air for 15 years.
---
Salsa Warriors (Pan Latin)
Last but not least, there's this 24/7 option. We especially recommend Que Viva La  Music with Vicki Sola, Marysol Cerdeira and Andres Padua.
---
Afro-Latin music venues
For Afro-Latin music venues in New York City (the northern most outpost of the Caribbean), click here: Afro-Latin music venues in New York City
– Ken McCarthy
Jazz on the Tube
P.S. Our unique programming is made possible by help from people like you. Learn how you can contribute to our efforts here: Support Jazz on the Tube
Thanks.
Go to Cuba with Jazz on the Tube as your guide:


Click here for details