In this reading, we dive deep into the scholarship Kareem Abdul Jabar has carried out on Los Angeles' Central Avenue.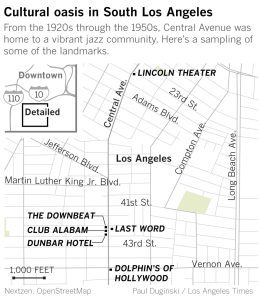 References
The story of Kareem's father
Source of the article and some of the graphics
Podcasts in the Jazz on the Tube "Scenes" Series
San Francisco – Elizabeth Pepin and Lewis Watts
Detroit – Mark Stryker
St. Louis – Dennis Owsley
Boston – Richard Vacca
New Orleans – Richard Lewis
Kansas City – Readings from Nathan Pearso
The Barbary Coast – Readings from Tom Stoddard
– Ken McCarthy
Jazz on the Tube
P.S. Our unique programming is made possible by help from people like you. Learn how you can contribute to our efforts here: Support Jazz on the Tube
Thanks.
Music credit: The Jazz on the Tube podcast theme song is "Mambo Inferno" performed by The Manhattan School of Music Afro-Cuban Jazz Orchestra conducted by Bobby Sanabria from the CD ¡Que Viva Harlem!