Interview
Download the mp3 here
About Artt Frank:
Drummer Artt Frank was born on March 9, 1933 in Westbrook, Maine.
Frank has been a professional drummer since he was a teenager.
His most significant musical association was with Chet Baker who he met when the trumpeter was struggling in the mid-1960s, playing with him off and on for 20 years.
Frank has also performed with Billie Holiday, Sonny Stitt, Jimmy Heath, Ted Curson and Al Cohn among others and has led several albums of his own.
His book Chet Baker: The Missing Years, A Memoir was published in 2014.
Artt Frank talks about his friend Chet Baker in this interesting interview.
-Scott Yanow
---
"My whole philosophy of music is to build a spiritual unity in sound. If an audience becomes a part of that unity, if only for a few minutes, then I have accomplished what I have set out to do.
This is my way of sharing with others all the wonderful gifts that GOD has bestowed upon me. In my compositions, this unity is expressed through lyricism.
A melody that can be understood, felt and shared is a very powerful thing as is the sharing that we show in love for one another – a spiritual unity coming down from, and ascending up to the FATHER of LIGHTS who gives it continuously when you ask."
– Artt Frank
Chet Baker – Tune Up
Chet Baker, trumpet
Drew Salperto, piano
Mike Formanek, bass
Artt Frank, drums
The Artt Frank Group – Tribute to Chet Baker
Artt Frank, drums
Dave Liebman, soprano sax
Billy Dowling, trumpet
Phil Markowitz, piano
Dennis Irwin, bass
Artt Frank demonstrates melodic Bebop Drumming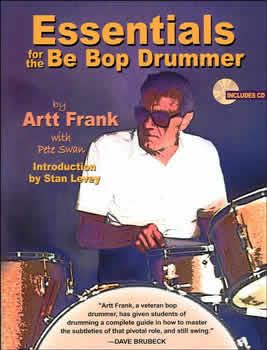 Earla Porch – Easy Street
Earla Porch, vocals
Joe McWilliams, piano
Ken Berry, tenor sax
John Mobillo, bass
Kathy Frank, drums
– Ken McCarthy
Jazz on the Tube
P.S. Our unique programming is made possible by help from people like you. Learn how you can contribute to our efforts here: Support Jazz on the Tube
Thanks.