For more Jazz on the Tube podcasts click here
Interview
Download the mp3 here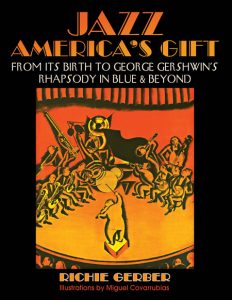 Jazz America's Gift: From Its Birth to George Gershwin's Rhapsody in Blue and Beyond
Videos that reference things Ken and Richie discussed
Gershwin plays "I've Got Rhythm" – live
Gershwin plays "I've Got Rhythm" variations for piano and orchestra (1934)
Gershwin plays Gershwin: "Sweet and Lowdown" (piano roll)
"Rhapsody in Blue": Leonard Bernstein, New York Philharmonic (1976)
Jazz Opera: "Blue Monday" r(enamed "135th Street)
"Porgy and Bess" – The Berlin Philharmonic
"Porgy and Bess" – Miles Davis and Gil Evans (1958)
The origin of the word "jazz" – It's Gaelic!
The surprising and most comprehensive study of the word's origin
---
More Jazz Resources:
Visit JazzontheTube.com's video archive of over 2,000 annotated class jazz videos, the largest collection on the Internet.
And don't forget our comprehensive, up-to-date global list of jazz clubs, jazz radio stations, festivals, and jazz education programs.