We went down to Havana in March to see the Fiesta del Tambor (The Drum Festival.)
We figured a drum festival in Havana had to be amazing, but nothing prepared us for the superabundance of talent and the sheer amount of music offered.
Since Jazz on the Tube is a jazz web site, we're going to start with the jazz we encountered, but follow the thread to the end to get a more complete picture of this Treasure Island of music, both in and outside the festival.
At the Riviera Hotel, Havana
March 2017
Oliver Valdes – leader, drummer
Alejandro Delgado – trumpet
Tony Rodriquez – piano
Jorge Reyes – bass
Marcus Santos – congas
Did you recognize the tune?
It's "Chan Chan" a 1987 composition by Compay Segundo featured in the movie "The Buena Vista Social Club."
This is a great example of the alchemy jazz can accomplish, taking a well known melody and finding deeper magic in it. (Think John Coltrane's version of "My Favorite Things.")
At the Riviera Hotel
March 2017
Delvis Ponce Jove – leader, alto saxophone
Carlos Vietia – saxophone, trumpet
Michael Herrera – saxophone
Miguel Garcia – piano
Victor Cambel – piano
Edwardo Silveira – congas
Karel Kindelan – drums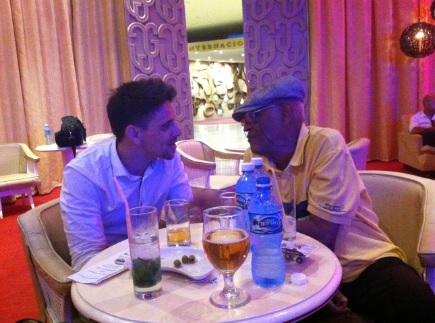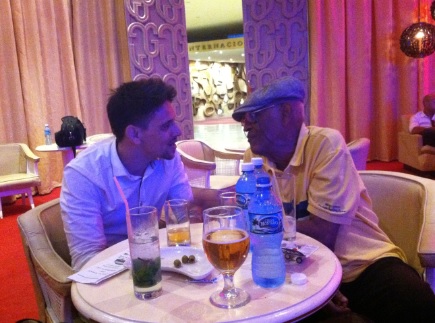 Delvis Ponce Jove talks with a mystery man. Click here to discover who he is
– Ken McCarthy
Jazz on the Tube
P.S. Our unique programming is made possible by help from people like you. Learn how you can contribute to our efforts here: Support Jazz on the Tube
Thanks.
Go to Cuba with Jazz on the Tube as your guide:


Click here for details