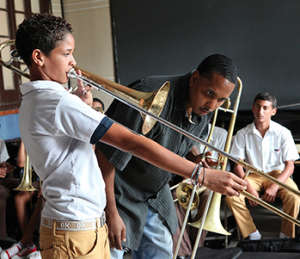 Interview
Download the mp3 here
Jazz on the Tube's Ken McCarthy talks with Jana La Sorte, managing director of Horns to Havana.
This wonderful organization brings much needed musical instruments to Cuba and arranges education and exchange programs for young Cuba musicians.
For more information, click here: Horns to Havana
– Ken McCarthy
Jazz on the Tube
P.S. Our unique programming is made possible by help from people like you. Learn how you can contribute to our efforts here: Support Jazz on the Tube
Thanks.
Go to Cuba with Jazz on the Tube as your guide:


Click here for details